[vc_row][vc_column][capital_slider slider_id="2522″][/vc_column][/vc_row][vc_row el_class="more ups"][vc_column][vc_column_text]
Developing websites that engages your market and helps your organization grow.
For most organizations, your website is the hub of your online presence.
Social media accounts reach out into the community and lead prospects to your main arsenal of information, resources and interactive opportunities. A compelling website will engage and inspire a prospect or customer. It will effectively tell your story, strengthen your brand, nurture relationships and even facilitate administrative tasks.[/vc_column_text][vc_column_text]
Your online presence is crucial to positioning your brand, growing your organization and maintaining relationships. So it only makes sense to take a strategic approach to your online presence. Like any marketing or business initiative, determining clear goals and a plan to achieve them will make you more successful. We advocate that the first step in any website development involve a broader planning session to integrate your new website with your organization goals and online branding.
With our web design and development services, your website will form a strong foundation for your business, strengthening your brand and online presence. At PROSAR, we have the strategic strength, creativity, and technical know-how to help you succeed online.
[/vc_column_text][/vc_column][/vc_row][vc_row el_class="more"][vc_column][vc_column_text]
Growth Driven Website Design
Regularly expanding and evolving your website attracts more leads and returning visits. In fact, many new websites are now developed in stages, adding more strategic content and targeted resources as the site grows. Growth Driven Design gets a new site up fast (often in just 4 weeks!) and purposefully evolves to provide a larger more resource-rich website.
Ongoing analysis of online traffic helps to guide that growth. This process is easier to budget for and creates a more relevant online presence for your organization. Learn More
E-commerce Development
There are many quotes along the lines of "everybody has something to sell"; and perhaps that should be updated to "everybody has something to sell online." It has become quite affordable to set up and run an e-commerce website. Organizations that never would have considered selling online are now selling merchandise, service and memberships.
There are many tools and apps to help you sell online (such as Shopify) which make the process easier and less expensive; however, it is still a significant investment to do so professionally. Consumer behaviour and retailing strategy, design and users-experience, promotional messaging and informative direction, database and programming… it takes many skill sets to get it right. Just as you would with any website, plan your e-commerce site well and ensure you have the right team to lead you to success.
Need a cool new site to promote and sell? Do you have an existing e-commerce site that needs to be revitalized or modernized? We can help. Our web strategists, designers and programmers will build you an online storefront that actually makes your customers feel valued and understood, and efficiently guides them through the buying process.[/vc_column_text][/vc_column][/vc_row][vc_row el_class="less bax"][vc_column width="1/6″][/vc_column][vc_column width="2/3″][vc_column_text]

As a Shopify Partner, PROSAR has access to a vast resource and state-of-the-art tools to improve your online sales.
[/vc_column_text][/vc_column][vc_column width="1/6″][/vc_column][/vc_row][vc_row][vc_column width="1/2″][vc_column_text]
Responsive Web Design
With more and more of your audience browsing on their smartphone, it is more important than ever for your website to display and function well on a mobile device. Responsive Web Design (RWD) ensures that your website reformats appropriately to suit the size screen it is viewed on. Often the web page can be logically adapted and custom tweaking to the template is all that is required, in some cases a mobile version of the page is the best solution.[/vc_column_text][vc_row_inner][vc_column_inner][/vc_column_inner][/vc_row_inner][/vc_column][vc_column width="1/2″][vc_column_text]RWD requires a solid understanding of the design concessions needed to accommodate different screen sizes and perspectives, so that a responsive web site can be created without compromising look and feel or functionality.
Understanding your audience, their needs and what you want to achieve with each page will guide the process of making your website responsive. With our RWD approach, you can be assured that your website will provide the best possible user experience on any device – helping you gain better results.[/vc_column_text][/vc_column][/vc_row][vc_row el_class="more"][vc_column][vc_column_text]
Is Your Website AODA Compliant?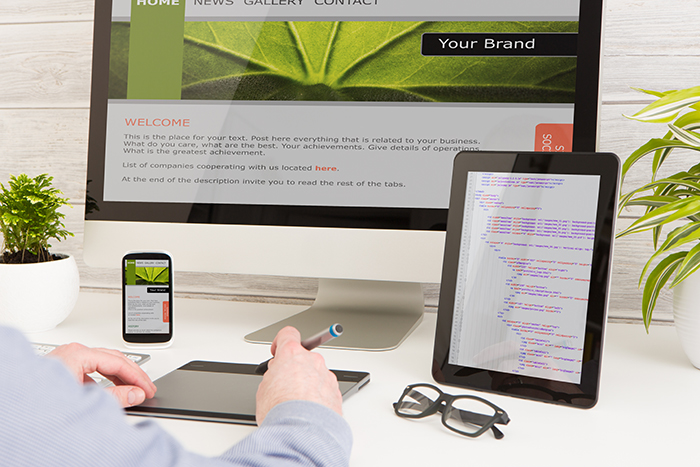 Having a website that is accessible (i.e. easy to use for people with disabilities) is more than good business sense — in Ontario it's the law. The Accessibility for Ontarians with Disabilities Act (AODA) requires websites to conform with Level AA of the World Wide Web Consortium Web Content Accessibility Guidelines (WCAG) 2.0.
Not only will you be able to get your message out more effectively, an AODA compliant website will also be better ranked by Google. It's in everyone's best interest, contact us and we'll help you through the process.
[/vc_column_text][/vc_column][/vc_row][vc_row][vc_column width="1/3″ css=".vc_custom_1467224178545{background-image: url(https://www.parsonref.ca/wp-content/uploads/2016/06/e-2.jpg?id=2783) !important;background-position: center !important;background-repeat: no-repeat !important;background-size: cover !important;}" column_min_height="300″ offset="vc_hidden-md vc_hidden-sm vc_hidden-xs"][/vc_column][vc_column width="1/3″ css=".vc_custom_1467179164405{background-color: #525659 !important;}" column_min_height="300″][vc_column_text]
Planning & Strategy Development
Design & User-experience (UX)
Custom Programming & Database Deployment
Content Development & Writing
Responsive Web Design (RWD)
Accessible (AODA) Compliant
E-commerce: Large & Small
[/vc_column_text][/vc_column][vc_column width="1/3″ css=".vc_custom_1467224191274{background-image: url(https://www.parsonref.ca/wp-content/uploads/2016/06/ee-3.jpg?id=2785) !important;background-position: center !important;background-repeat: no-repeat !important;background-size: cover !important;}" column_min_height="300″ offset="vc_hidden-md vc_hidden-sm vc_hidden-xs"][/vc_column][/vc_row][vc_row css=".vc_custom_1467179336668{margin-top: -37px !important;}"][vc_column width="1/3″ css=".vc_custom_1467179915940{background-color: #525659 !important;background-position: center !important;background-repeat: no-repeat !important;background-size: cover !important;}" column_min_height="300″ offset="vc_hidden-md vc_hidden-sm vc_hidden-xs"][/vc_column][vc_column width="1/3″ css=".vc_custom_1467179310645{background-image: url(https://www.parsonref.ca/wp-content/uploads/2016/06/Our-Services-GraphicsWebDev.gif?id=2809) !important;background-position: center !important;background-repeat: no-repeat !important;background-size: cover !important;}" column_min_height="300″][vc_column_text][/vc_column_text][/vc_column][vc_column width="1/3″ css=".vc_custom_1467179924051{background-color: #525659 !important;background-position: center !important;background-repeat: no-repeat !important;background-size: cover !important;}" column_min_height="300″ offset="vc_hidden-md vc_hidden-sm vc_hidden-xs"][/vc_column][/vc_row][vc_row][vc_column][vc_column_text]
Take advantage of a modern and strategic website to grow your organization…
[/vc_column_text][/vc_column][/vc_row]