[Part 3 in a 3-part series on women in marketing]
There's a lot to love about the award-winning show Mad Men – especially if you're in the marketing, communication or advertising industries yourself. However, if you're a woman and a believer in equal rights, much of the show can be hard to swallow. This is what makes Peggy Olson, as a character, so fascinating.
Peggy comes a long, long way from her humble beginnings as Don Draper's nervous young secretary in the first season – eventually climbing her way to the highest ranks at her New York advertising company as a head copywriter. The industry is dominated entirely by men of course as the show is set in the late 1960s before the second or third waves of feminism hit corporate America. Peggy faces incredible sexism and discrimination, making her journey to the top as a young woman especially compelling.
While the sexism never completely disappears, Peggy's skin thickens as the series progresses. In the final episode ofMad Men, she's a whole new woman it seems – negotiating huge client deals, spearheading million dollar campaigns, and fearlessly drinking and smoking among the 'old boys club' after hours.
Peggy may have been a fictional character, but her struggle resonates being that workplace sexism is an unfortunate reality for countless women in marketing since the industry's inception. As we've explored in the previous two blogs in this series, discrimination is still prevalent for many women in our field and still has a stubborn tendency to hinder our success.
That being said, there are an increasing number of women stepping up, breaking this infamous 'glass ceiling' and carving new paths for the women that follow. As women in marketing, we can certainly take solace in the great strides we've made since the era Mad Men took place in.
Today, more and more women are making their mark on the industry, we should both celebrate and expect that. Here are a few Canadian examples of marketing leadership: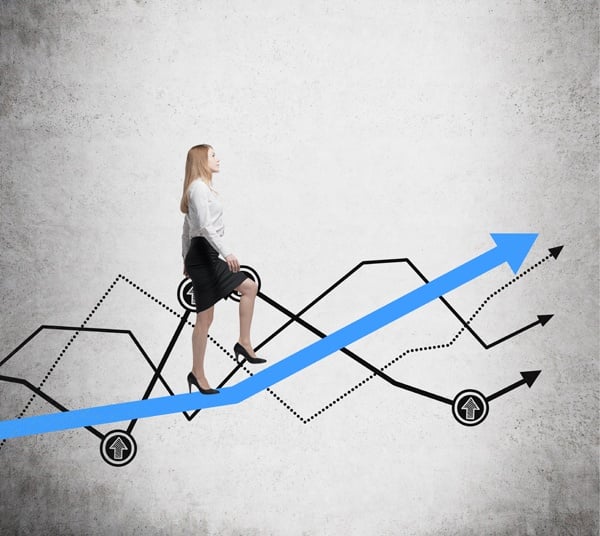 Image credit: ismagilov/iStock
Sharon MacLeod – @SharonMacLeod
Vice-President of Marketing at Unilever Canada
When it comes to Canadian corporate marketing, Sharon MacLeod is a woman who stands out for more reasons than one. She's tough, and refuses to stand for inequality.
Growing up on a farm with three older brothers, Sharon MacLeod was expected to "do everything the boys did." There were no boys' tasks or girls' tasks, just work that needed to be done. Having been raised with these values, it was eye-opening when she walked into her first meeting as a director at Unilever to discover she was the only woman in the room. She recalls this moment as a defining one which motivated her to become a champion for women's advancement at Unilever and beyond. Ms. MacLeod has been credited by many with being an "engine for change," vigorously supporting the growth and promoting the importance of a diverse and inclusive workplace.
As a member of the Unilever Canada leadership team, Sharon MacLeod has been a big part of programs such as the Dove Self-Esteem project, Becel's healthy heart initiative and Hellmann's Real Food Movement, as well as the opening of the first-ever Pleasure pop-up store with Magnum ice cream. Her marketing work with Unilever has been recognized by consumers and industry peers alike. Among her many accolades are two Grand Prix awards at the Cannes Advertising Awards and Brand of the Decade for Dove by Strategy. MacLeod is a founder of the renowned women's leadership program, Chocolate Villa. She is a global diversity champion at Unilever and a great supporter of the company's sustainable living plan.
Sources:
http://www.catalyst.org/who-we-are/our-people/sharon-macleod
http://business.financialpost.com/women-in-power/women-in-power-canadas-100-most-powerful-women
Marie-Josée Lamothe – @MJLamothe
Managing Director of Branding and Director for Quebec at Google Canada
Marie-Josée Lamothe has the kind of skills and talent that get noticed – which is probably why she's working in marketing for the one of the leading digital companies in the world.
A 20-year veteran of the beauty and luxury marketing worlds, Marie-Josée Lamothe has experienced numerous successes on an international level. In spearheading many innovative and award-winning projects, she has helped L'Oréal Canada become the country's top digital beauty marketer. Lamothe has recognized as Strategy Canada's Marketer of the Year and, under her direction, L'Oréal Canada earned a spot on the list of Top Marketing Companies by Marketing.
Lamothe sits on various industry boards, and she is an advocate of education. In 2014, Lamothe moved to Google Canada where she now sells marketers on how Google can play a bigger role in their communication with customers.
Sources:
http://business.financialpost.com/women-in-power/women-in-power-canadas-100-most-powerful-women
http://www.theglobeandmail.com/report-on-business/industry-news/marketing/googles-new-hire-to-sell-digital-as-central-to-advertising/article18472951/
Michele McKenzie
Interim CEO of Tourism Nova Scotia Corporation
Michele McKenzie's award-winning career has taken her across the country and back. When it comes to women in marketing, she is certainly worth paying attention to.
With some 30 years of experience working in Canada's tourism sector, Michele McKenzie has become an internationally recognized expert in hospitality, tourism and marketing. Since being appointed to her current role with the Canadian Tourism Commission in 2004, she has helped it evolve into a respected and competitive brand marketing organization.
Under her leadership, the CTC earned the Marketer of the Year title from Marketing in 2009 and contributed to Canada's No. 1 position on FutureBrand's Country Brand Index. The recipient of several awards for management excellence, McKenzie recently accepted the 2013 Leading Management Change Award from Canadian Government Executive. Before joining the CTC, McKenzie was Nova Scotia's deputy minister of Tourism, Culture and Heritage. She holds a designation from the Institute of Corporate Directors and an honorary degree from Humber College in Toronto.
Since stepping down as CEO of the CTC, McKenzie has moved into a temporary role as interim CEO of Tourism Nova Scotia Corporation.
Sources:
http://business.financialpost.com/women-in-power/women-in-power-canadas-100-most-powerful-women
http://thechronicleherald.ca/business/1302354-taylor-mckenzie-plans-to-make-the-most-of-tourism-n.s.-stint