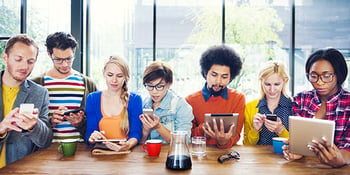 When in need of a social media manager or community manager we often assume that if we hire a person born after 1990 that they should automatically be qualified for the job. I don't mean this as a good or bad thing, but simply as an assumption that we make, myself included. Now that I am in charge of coaching and managing a junior team of community managers I realize that they need as much support as any other role within a company. To help you find the right fit for your team, here are a the top 3 tips to find a great social media manager, rookie or experienced.
When I started consulting in social media I realized that being familiar with the platforms and knowing how they work was not enough to truly help my clients build a strong online presence and maximize their business socially. I worked hard to improve my knowledge of each channel; the advantages and disadvantages of each, their main messaging, their focus and what kind of audience they target. I also improved my skills in content marketing and did a lot of tests to see what works. I looked at competitors in different industries to pull out best practices that could be applied in a variety of fields. Although I am not here to share my experience with you, here are a few pointers to take into account when looking at a resume.
Tip #1: Ask questions!
The best advice that I can give you is to ask questions. Although you might not know much about social media, ask your candidate about potential social media strategy for Facebook, Twitter, YouTube, etc. Give them an initial case in which they need to explain to you how they will increase your engagement rate by 50%. Even if you may not know all the answers, you will be able to observe their reaction.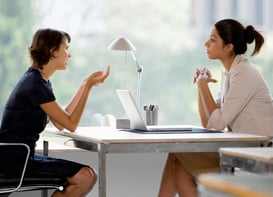 Are they confident in their answers?
Are they stumbling over their words?
Are they rambling?
Do they seem to know what they are talking about?
Also, listen to their words and see if they are mentioning any previous projects and examples of how they implemented the approach they are proposing. My colleague from PROSAR, Jenn Jefferys, wrote a great article on how to hire an inbound marketer and what to look for. You can apply many of these tricks to your search for your next social media manager.
Tip #2: Check them out online!
The advantage of today's social networks is that you can look up anyone online. Simply Google your next candidate and see what comes up. As a social media or future community manager, they should have started to build their online reputation with a LinkedIn profile, a topic driven Twitter account and even a blog. If they have a blog take a look at the articles and their style of writing and the level of language.

Is their written form grammatically correct?
Does the article have a good flow?
Are you captivated by it? Or bored?
And do they have any guest posts? Are they writing for another website? Or publishing on LinkedIn?
Another way to check them out is to take a closer look at their LinkedIn profile. Many profiles today have top skills that are endorsed by others, recommendations that are added to a profile and even the option to see one's portfolio. Another way to help your search is to directly post your job opportunity on a network like LinkedIn. You will probably get a candidate that has an active profile and that looked you up online as well. It has been proven that a post on career-oriented social media generates more than 60% of referrals towards the homepage of your company.
Tip #3: Follow your channels!
Here's some advice if you believe you have found a great social media manager and that they are the right fit for your business. Although you trust their resume, their credentials, and what you have seen online, it might be to your advantage to become a little more active online and on your own channels. Get involved in your own social media strategy. If you have an existing network then start following your company Twitter account, LinkedIn company page or Facebook business page. Without being a micro-manager, your engagement will help you understand the advice your social media manager is giving you and maybe learn a thing or two about your company, your customers, and what is being said about you online.
You are making an investment in social media as an advertising, brand awareness and distribution channel. Follow the content that is being published, the customer feedback that you are receiving and the increase in the engagement that you observe. Finally, like any great strategy, it's always great to have an overview from an expert.PROSAR has worked with many companies to help them setup their social media efforts and coached their internal specialists to implement tactics that work. Why not guarantee social media success with results from day 1?