There are certain words related to social media that people tend to use without really knowing what they mean. Working within an international setting these days, I have come to realize that certain words can become unclear or lost in translation. ENGAGEMENT is such a term
We all want to engage our community, we want to increase our engagement online, or what about that engagement statistic on Facebook, what does that mean?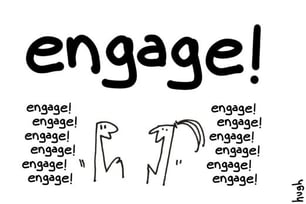 And what does engagement represent?
Will it drive more sales?
Will it create a community of loyal customers?
Will they spread your brand and promotions like wildfire?
The short answer is probably not. But… why not?
Although I am a strong believer in social media, engagement and community, I have come to realize that other factors need to be considered in order to build the right strategy. Here is my list of critical components: Your Customer, Your Offer, Your Goal and Your Industry.
Your Customer
Let's be fair, not every customer will be the ideal profile to engage online.
Although age is only a number, their Internet behavior will help you better position your engagement.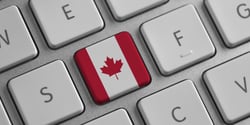 Overall in Canada, more than 35 million people have home access to the Internet. Out of that group, 86% of 18-34 year olds have a social profile and 62% of 35-54 years olds. Very significant numbers that should be considered in an overall strategy.
From a channel perspective, Facebook remains the strongest with 59% of users but an interesting study from Forum research shows that Instagram, Twitter and LinkedIn can be better channels for your customer base depending on their education, location and finally, your own objectives.
Your Offer
I believe you can create engagement around any topic but the nature of your offer will help you determine how much effort it might take. For example, if your business is customer service driven it might be easier to start a dialogue with your customers online. But then you have to be prepared to foster engagement by offering a quick response and have content ready for a diversity of questions and feedback to nurture a dialogue.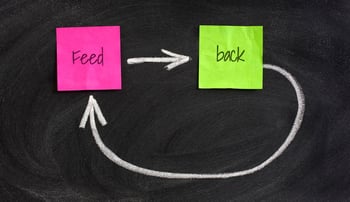 Another example could be that you have a new product and want to get feedback from your audience. In that case, you might offer a free sample, use a social network like Facebook to create a forum, or ask your audience to spread the word by sharing pics on Instagram.
Your Goal
if you are in the service business, you, no doubt, use your online network to share info about and promote your service. However you may not be seeing any return. And that is often becauase ther isn't a clea objective to shape your strategy. Evaluate what you want from your network and how will you leverage the information you gain.Engaging for the sake of engaging will not serve your end goal. Here are a few options to start your thinking process:
You want an engaged community

You will need a dedicated Community Manager that is interacting with your community on a daily basis. This person will be building your community, increasing your followership, posting relevant content on a high frequency to determine what are your community's preferences and pain points.
You will need to provide content to your community. Get your employees in the habit of sharing their daily activities, their best moments and customers highlights.
You will need to create a discussion. The concept of "build it and they will come" does not apply here. Work hand-in-hand with your Community Manager to find discussion topics, questions to ask and elements for which you would like feedback.
Remember, this will take time and effort to create but once it is built, it will become a powerful marketing tool!
You want to generate leads
You will need to provide incentives to your fans or followers: contests, prizes, free samples, rewards, etc. By enticing your community to register for something, you will be able to gather their email address and build a database of potential leads.
Your incentive can also be GREAT content. Think about sharing tips, how-tos on how to use your product, current news if you are in a news driven industry, education on using your service, etc.
As you grow your database, use your social media to continue to engage your customers. Once they are in the habit of coming to your page or account for contests, prizes and samples, continue to promote to them to generate referrals and eventual sales. For this purpose, you will need to adopt a CRM tool with automated marketing capabilities such as SharpSpring to maintain your newly built relationships.
Your Industry
Finally, take a look at the your industry. What are your competitors doing to create engagement with their users? Are there any best practices that you can leverage?
Important to note that this should not be the only element to consider. It is not because your competition is there that you should be as well. Take the time to really look into their content: are they doing any storytelling, or only sales driven promotions? And what is their level of engagement? Determine which channels will reach your target audience and fit your needs the most. If it seems overwhelming, an agency can help you answer this question and give you a full overview of your market.