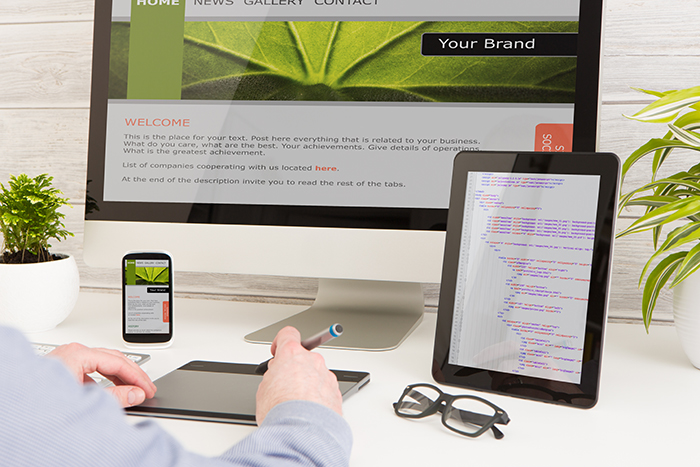 For seven years now, HubSpot has been polling business to get a sense of where is the State of Inbound: how prevalent is Inbound Marketing, how is business implementing it, what challenges are they facing, and how well is it working for them. Last year, HubSpot added salespeople to the survey in order to get a fuller picture of Inbound's affect on both marketing and sales. This not only provides greater detail into the use and relevance of Inbound, it makes the report especially valuable with insight into the implementation and ROI of such tactics. One of the greatest impacts that I have witnessed in the process of assisting firms with integrating inbound tactics is the alignment of marketing and sales and ensuing collaboration between these (often divided) departments.
Overall, Inbound Marketing is gaining tremendous speed as more organizations (small, large and even non-profits) successfully adopt such a strategy. The survey found that three out of four marketers, from around the globe, have more faith in an inbound approach than outbound tactics. In fact, Inbound tactics are three times more likely to generate higher ROI. None of this is surprising to any experienced marketer who has been working with both inbound and traditional marketing tactics.
However, one of the findings that I found surprising is that social sales is still a relatively low priority for companies in 2015. For years we've witnessed the continued explosion of social media for private use, and how many companies (large and small) have leveraged social media networks to position or build their brand, extend their reach, engage with key markets and even grow trials and sales for products. With this track record I expected small- and medium-sized businesses (SMBs) to start embracing social media and put more effort and resources into its development.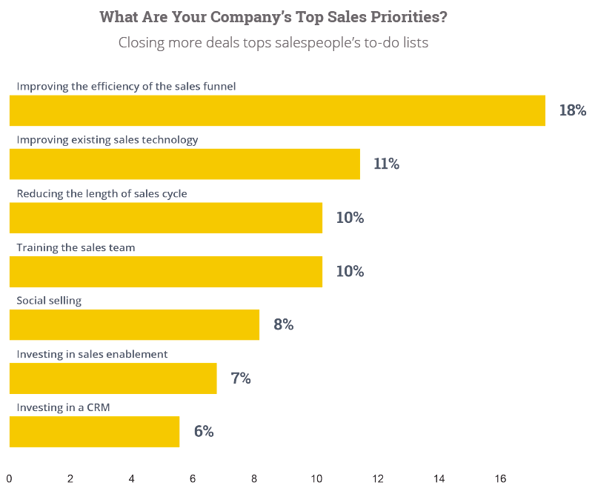 I certainly appreciate that closing more sales and developing an efficient sales funnel are top priorities, they are after all the lifeblood of any organization. But, if prospecting continues to be an issue for companies, sourcing more leads via social selling and using the networks to nurture these leads must be part of the -solution. (For some insight into effective use of social media on an ongoing basis, check out this article by Dave Auten: Social Media Marketing – How Much Time Per Day?)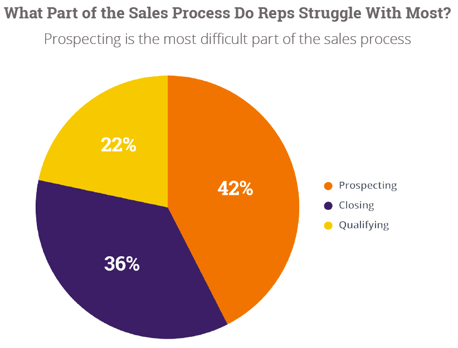 Perhaps it is an indication that we are still in relatively early years of businesses' strategic use of social media and other inbound tactics. HubSpot was one of the pioneers and now is a leader in the field, but new tools and marketing automation software are still being introduced at a rapid pace and adoption rates are just starting to catch up. So it is natural that, despite their wish list, organizations must prioritize their needs. There are fundamental and structural requirements that need to addressed first, before some of the implementation and prospecting processes can be refined.
Interestingly, when the State of Inbound 2015 survey probed deeper, all levels of the organization were not totally in alignment. This graph shows how Executive and VP/Director levels placed a higher priority on social selling than middle management and salespeople. This could symbolize that those at the top are starting to understand the potential value of social selling, and that some top-down influence may initiate more organizational involvement in social media. Perhaps next year's report will shed some light on that trend and its effectiveness.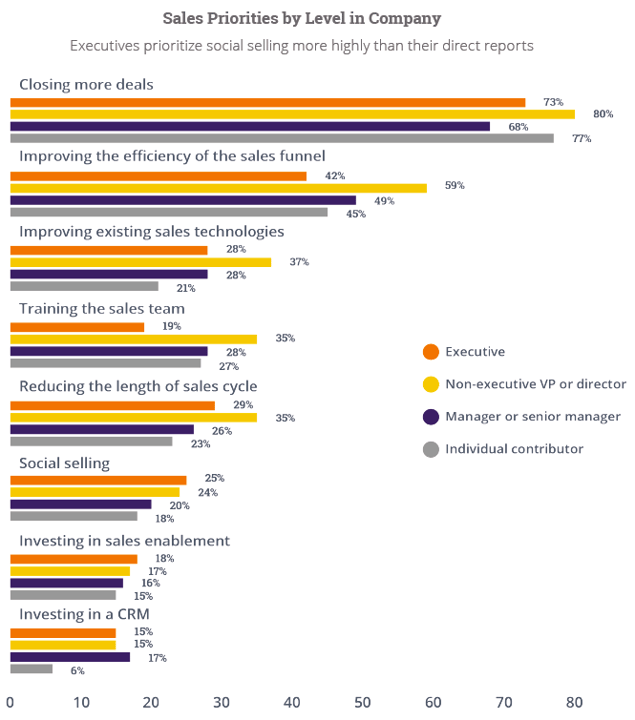 State of Inbound 2015 Survey — Quick Facts:
Conducted in June and July 2015
3,957 respondents (only one-third have an affiliation with HubSpot)
B2B, B2C and non-profits represented
52% earn less than $1M and approx 4% earn over $500M
48% have fewer than 10 employees and 6% have more than 1,000
Over 150 countries represented